New Rolls and Roll Refurbishment
Regrinding and Fluting
Satake Europe Ltd is pleased to offer the most comprehensive Roll refurbishment service available. In recent years we have consolidated our position as one of the leading companies in the refurbishment sector, by offering a consistently high quality service coupled with the most competitive pricing and turn-round time available.
Roll Fluting in action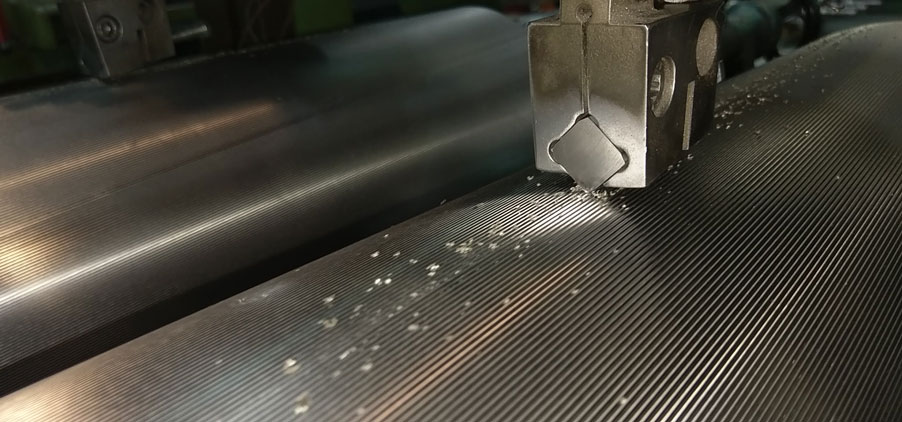 The Service Offered
On receipt of the rolls for refurbishment, they are cleaned and logged and an inspection report is completed and forwarded to the client providing information on the following details:-
Roll Chill Inspection Report
Chill body diameter
Condition of Spindle
Any evident damage to the chill, damage that may have been caused to the keyway on spindles etc.
If the chill body is below 9.700" (246.4mm) the report can be accompanied by a hardness test upon request.
A copy of this report will be faxed to you, to enable you to discuss any points with the Roll Section. Refurbishment will then take place in accordance with your instructions.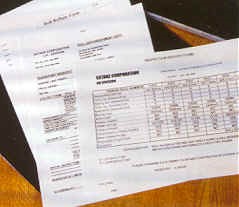 The Roll is then machined smooth in readiness for final fluting specification to be carried out.
On completion, a predetermined selection of Rolls are subject to our stringent Quality Assurance inspection, using profile shadowgraph equipment to examine the pitch, depth, angle and land of the flutes.
Following final inspection the rolls are coated with Food Quality Lubricant and wrapped in protective packaging covering both chill and spindles. The rolls are then positioned on a purpose-built pallet.
Should an emergency situation arise, we can accommodate a 72-hr factory 'turn-around' from receipt of rolls and specification (at a premium rate).
Fluting Specification
A comprehensive range of machinery and tooling is available to meet most customers requirements.
We cater for all the following profiles:

Simon

4)

Golfetto

Robinson

5)

Ocrim

Buhler

6)

Allis, Collins and many other US fluting specification can be catered for
If you have any questions, or need to discuss your requirements in greater detail, please contact our Roll Section.