North of England Millers Association visit Satake
---
Posted on Wed 22nd May 2019
---

---
In early May, the North of England Flour Millers Association were welcomed to Satake's facility in Stockport, by our Managing Director, Mr Kunimitsu .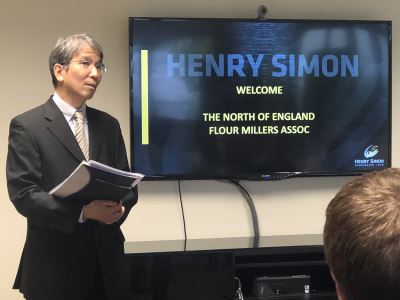 The purpose of visiting, was to gather as an association and take the opportunity to update themselves on Satake equipment and services.
Satake personnel presented information relating to the Henry Simon brand, which was very well received.
The 26 visitors were split into three groups and given the opportunity to tour our facility.
The first group were treated to a demonstration in the Colour Sorting section, taking in the showroom with the latest Henry Simon equipment.
The second group started with a tour of our Service Department, encompassing the sieve recovering section with its tables, rows of various silks & wires and stacked frames waiting to be processed. They really appreciated the activity taking place in the Roll Refurbishing department, recognising the importance of what is done in this part of the factory!
The third group got the opportunity to tour our valuable test milling facility, where most commented about how impressive it was to be able to mill small volumes while still attaining factory style results. All three groups then circulated through the building, taking in the latest we had to offer.
The feedback received from the visitors was very positive, showing appreciation for the Henry Simon brand being revived and looking forward to the future.
---
Published by firstinternet
---
Share this article on:
---
---