Nouvel accord de distribution exclusif des trieurs optiques
---
Posted on Tue 02nd Mar 2021
---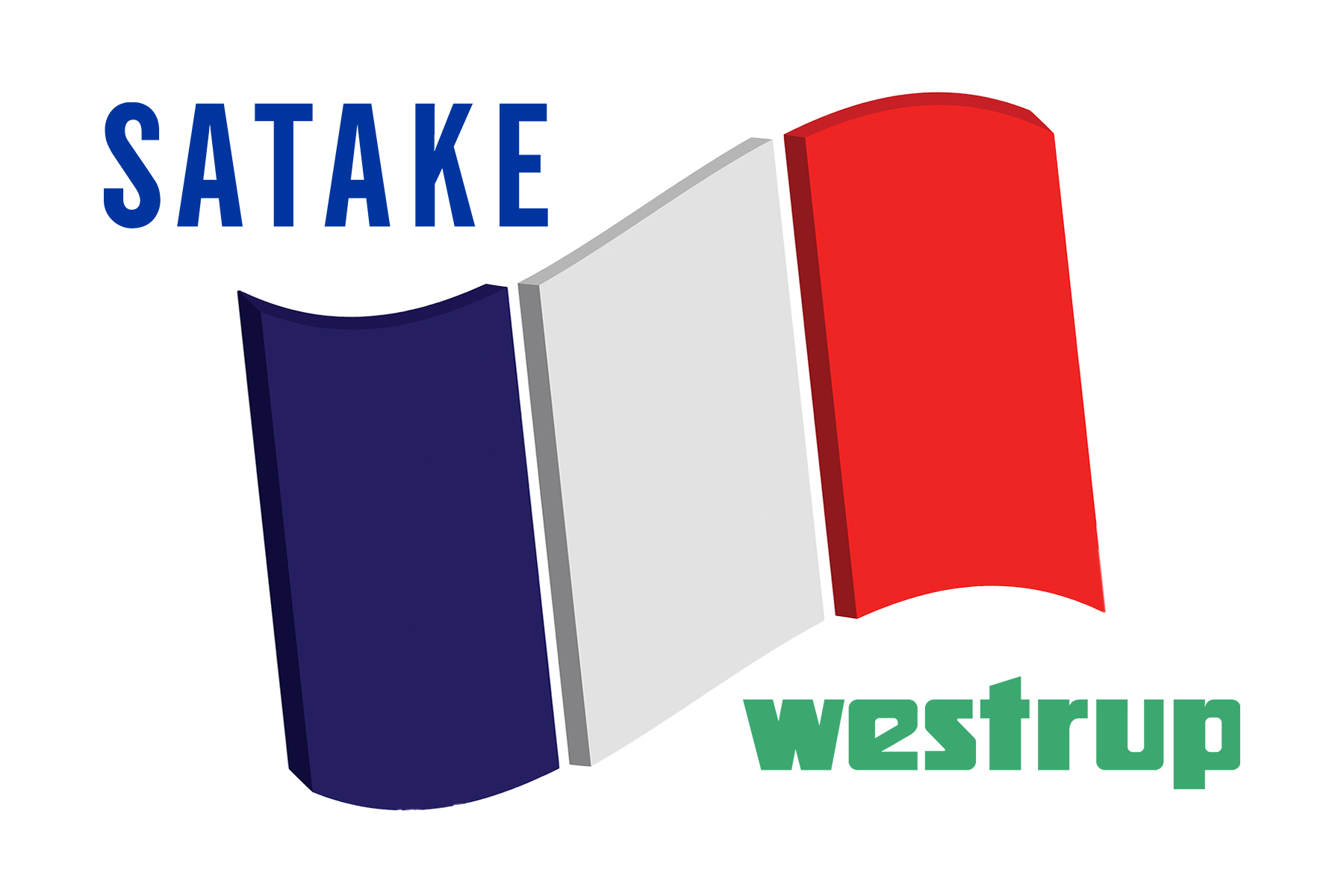 ---
Nouvel accord de distribution exclusif des trieurs optiques en France et en Belgique
Un nouvel accord de distribution exclusif avec Satake donne à Westrup le droit de vendre des équipements de triage optique en France et en Belgique pour certains secteurs d'activité, à compter du 1er mars 2021.
Nous avons le plaisir d'annoncer que Westrup représente Satake pour les solutions de triage optique en France et régions de Belgique.
Peter Marriott, General Manager de Satake Europe division triage optique commente, «nous sommes satisfaits de cette nouvelle étape dans notre alliance stratégique avec Westrup. La haute technologie de Satake et le vaste réseau et l'expertise locale de Westrup renforcent notre engagement auprès de nos clients afin de leur fournir un support commercial et technique de qualité»
Communique de Westrup
Marque leader sur le marche du triage optique
Les trieurs optiques Satake, reconnus mondialement sont un excellent atout pour compléter notre équipement de nettoyage de semences à la pointe de la technologie. Avec ce nouvel accord, tous les clients français et belges auront facilement accès à l'expertise de Westrup et de Satake en matière de tri des semences, d'assistance technique et de service sur machines.
«J'avais hâte de partager cette nouvelle. Il s'agit d'une étape très importante pour Westrup qui offre à nos clients, ainsi qu'aux clients de Satake, de nombreux avantages. Pouvoir proposer une large gamme d'équipements, de services et de solutions techniques permet à nos clients de se concentrer sur leur métier, tandis que nous nous occupons du reste. Nous sommes certains que cet accord aura un impact bénéfique énorme pour tous nos clients français et belges », déclare Bo Borne Jørgensen, PDG de Westrup A / S.
Et nous n'ajoutons pas seulement des machines de qualité à notre activité. Nous avons également la chance d'accueillir Sébastien Garcia dans notre équipe, qui jusqu'au 1er mars était l'ingénieur commercial de Satake en France. Cela signifie que nous avons maintenant un expert francophone en interne sur le marché du triage optique – son arrivée renforcera non seulement notre équipe en France, mais toute l'entreprise.
«Sébastien Garcia a plus de 10 ans d'expérience dans le triage optique Satake. Ses connaissances sont considérables pour toute l'entreprise. Nous sommes impatients de le présenter comme nouveau membre de l'équipe France, afin de proposer à tous nos clients un accompagnement global de qualité», déclare Christine Coutard, Country Manager France.
Centre de tests de semences en interne
Dans le cadre de l'accord, notre centre de test interne sera mis à niveau avec un trieur optique Satake. Les clients qui utilisent les équipements de notre centre de test peuvent donc faire fonctionner leur produit à la fois sur l'équipement de tri à petite échelle Westrup et sur les trieurs couleur de précision de Satake en une seule fois.
Les visites de notre centre de test sont toujours complétées par des conseils techniques de nos experts internes, fournissant aux clients toutes les informations dont ils ont besoin pour prendre des décisions éclairées pour leur entreprise.
Outre ce nouvel accord de distribution exclusive, Westrup et Satake ont également un accord de partenariat stratégique valide depuis 2017 couvrant les régions germanophones ainsi que le Danemark et la Suède pour la distribution, le service et l'installation de trieurs optiques Satake. Avec l'arrivée de Sébastien Garcia dans l'équipe, nous sommes certains que ce nouvel accord aura un impact très positif pour tous nos clients.
Nous sommes impatients de travailler en étroite collaboration avec Satake pour fournir les meilleures solutions à tous nos clients.
Pour plus d'informations sur cette annonce ou pour vous renseigner sur nos produits ou services, veuillez contacter:
vanessa.schofield@satake-europe.com
New Optical Sorter Distribution Rights in France and Belgium
A new exclusive distribution agreement between Westrup and Satake gives Westrup the right to sell optical sorters in France and chosen segments in Belgium as of March 1st, 2021.
We are pleased to announce that Westrup now represents Satake for Optical Sorting solutions in France and regions of Belgium.
Peter Marriott, General Manager of Satake Europe optical sorting division commented, "we are delighted to announce the next of phase of our strategic alliance with Westrup. Satake's market leading technology and Westrup's extensive network coverage and local expertise solidifies our commitment to our customers to provide them with first class sales and service support"
Statement from Westrup
Leading brand of optical sorters
Satake's world renowned optical sorting machines are a great addition to supplement our state-of-the-art seed cleaning equipment. With this new agreement, all French and Belgian customers will have easy access to both Westrup's and Satake's expertise in seed sorting, technical support, and service on machines.
"I have been looking forward to sharing this news. It is a very important step for Westrup and provides our customers, as well as Satake's customers, with many benefits. Being able to offer a wide range of equipment, services and technical solutions allows our customers to focus on their business, while we take care of the rest. We are certain that this agreement will have a huge beneficial impact for all our French and Belgian customers", says Bo Borne Jørgensen, CEO of Westrup A/S.
And we are not only adding quality machines to our business. We are also lucky to welcome Sébastien Garcia to our team, who up untill March 1st was Satake's Sales Engineer in France. This means we now have an in-house, French speaking expert on optical sorters – an addition that will strengthen not only our team in France, but the entire company.
"Sébastien Garcia has more than 10 years of experience in Satake optical sorters. His knowledge is going to be invaluable to the entire company. We are looking forward to introducing him to our side of the business, so we can get started on supporting our French customers in the best possible way", says Christine Coutard, Country Manager in France.
In-house seed testing facilities
As part of the agreement, our in-house test centre will be upgraded with a Satake optical sorter. Customers who use our test centre facilities are therefore able to run their product on both Westrup small-scale sorting equipment and on Satake's precision optical sorters in one visit.
Visits to our test centre are always supplemented with technical advice from our in-house experts, providing customers with all the information they need to make qualified decisions for their business.
Besides this new exclusive distribution agreement, Westrup and Satake also have a valid strategic partnership agreement from 2017 covering the German speaking areas as well as Denmark and Sweden for the distribution, service and installation of Satake optical sorters. With the addition of Sébastien Garcia to the team, we are certain, that customers in all areas will feel a positive impact of this new agreement.
We look forward to working closely with Satake to provide the best solutions for all our customers.
For more information about this announcement or to enquire about our products or services please contact:
vanessa.schofield@satake-europe.com
---
Published by firstinternet
---
Share this article on:
---
---