Satake Europe Announces new Managing Director
---
Posted on Tue 16th Feb 2021
---
---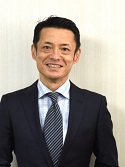 We are pleased to announce the appointment of Mr Kaoru Kawate as the new Managing Director of Satake Europe.
Since joining Satake Corporation in 1996 Mr Kawate has gained over twenty years of experience in national and international business including 2 years at Satake Thailand managing the South East Asia region. In 2019 Mr Kawate joined Satake Europe as Deputy Managing Director before being appointed as Managing Director in February 2021.
"My aim is to diversify our business into Africa, Middle-East where it has great potential to expand our business and to fulfill market demand" Mr Kawate commented.
As Managing Director of Satake Europe he will be responsible for the entire European operation which includes the Middle East, Africa and Russia.
---
Published by firstinternet
---
Share this article on:
---
---